Shopping Cart
Your Cart is Empty
There was an error with PayPal
Click here to try again
Thank you for your business!
You should be receiving an order confirmation from Paypal shortly.
Exit Shopping Cart
www.realisation​dupont.ca

| | |
| --- | --- |
| Posted on 21 November, 2021 at 7:55 | |
Après un peu d'accalmie, nous avons enfin une vraie activité à signaler ! Juste pour vous, mécènes, voici un aperçu exclusif de mes prévisions de tempête solaire 12 heures avant que le public n'y ait accès ! Cette semaine, notre Soleil nous tient occupés avec plusieurs poches de vent solaire rapide qui ont amené des aurores sporadiques aux hautes latitudes, mais rien de tel que le spectacle que nous avons vu il y a quelques semaines. Ce vent solaire rapide continuera de causer de légères perturbations au cours des prochains jours avant que les choses ne se calment. Les photographes d'aurores aux latitudes élevées pourraient obtenir des vues décentes au début de la semaine, mais les chasseurs d'aurores aux latitudes moyennes devront probablement regarder de côté cette fois. Les opérateurs de radio amateur connaissent également une certaine accalmie alors que le flux solaire est revenu dans les années 70 au cours des derniers jours. Heureusement, ces conditions changeront bientôt car une région lumineuse de retour (ancien lecteur M-flare, région 2891) est sur le point de revenir à la vue. Cette région, ainsi que quelques autres, commencera à augmenter le flux solaire jusqu'au milieu des années 80 au cours de cette semaine, peut-être plus. Cela signifie que la propagation radio du côté diurne de la Terre commencera à s'améliorer vers le haut du côté marginal d'ici la fin de la semaine. Quant aux utilisateurs de GPS, l'accalmie de l'activité des tempêtes solaires et la baisse du flux solaire facilitent en fait la réception GPS, alors profitez des bonnes conditions de réception un peu partout dans le monde cette semaine. Comme toujours, j'inclus les perspectives à 5 jours et j'inclurai la description de You Tube avant que les prévisions ne soient rendues publiques.
De plus, je veux pouvoir terminer le segment d'aurore ce soir, alors attendez-vous à une version mise à jour de cet article de prévision avec le segment d'aurore supplémentaire mettant en évidence certaines des photos étonnantes de la tempête solaire de niveau G3 avant que les prévisions ne soient rendues publiques.
https://www.patreon.com/SpaceWeatherWoman/posts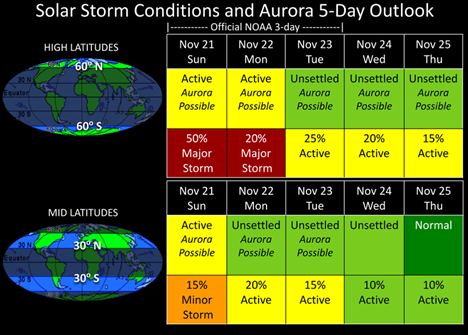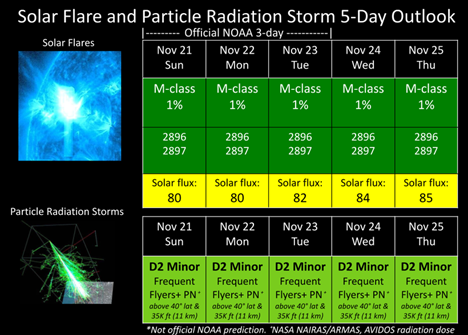 This Space Weather News forecast sponsored in part by Millersville University:
https://www.millersville.edu/swen
Want early access to these forecasts, tutorials on Space Weather, & more? Visit:
https://patreon.com/SpaceweatherWoman
For daily and often hourly updates (during active times) visit me on Twitter:
https://twitter.com/TamithaSkov
For a more in-depth look at the data and images highlighted in this video see these links below.
Solar Imaging and Analysis:
SDO: http://sdo.gsfc.nasa.gov/data/
Helioviewer: http://www.helioviewer.org/
Flare Analysis: http://www.lmsal.com/solarsoft/latest...
Computer Aided CME Tracking CACTUS: http://www.sidc.oma.be/cactus/out/lat...
GOES Xray: http://www.swpc.noaa.gov/rt_plots/xra...
SOHO: http://sohodata.nascom.nasa.gov/
Stereo: http://stereo.gsfc.nasa.gov/
GONG magnetic field synoptic movie: https://gong.nso.edu/data/magmap/stan...
GONG magnetic field synoptic charts: http://gong.nso.edu/data/magmap/
LMSAL Heliophysics Events HEK http://www.lmsal.com/isolsearch
Solar Wind:
DISCOVR solar wind: http://www.swpc.noaa.gov/products/rea...
ACE Solar Wind: http://www.swpc.noaa.gov/products/ace...
NASA ENLIL SPIRAL: https://iswa.gsfc.nasa.gov/IswaSystem...
NOAA ENLIL SPIRAL: http://www.swpc.noaa.gov/products/wsa...
Magnetosphere, Ionosphere, Atmosphere:
GOES Magnetometer: http://www.swpc.noaa.gov/products/goe...
Ionosphere D-Region Absorption (DRAP) model: http://www.swpc.noaa.gov/products/d-r...
Auroral Oval Ovation Products: http://www.swpc.noaa.gov/products/aur...
Global 3-hr Kp index: http://www.swpc.noaa.gov/products/pla...
Wing Kp index prediction: http://www.swpc.noaa.gov/products/win...
USGS Ground Magnetometers: http://geomag.usgs.gov/realtime/
USGS Disturbance Storm-Time (Dst): http://geomag.usgs.gov/realtime/dst/
NAIRAS Radiation Storm Model: http://sol.spacenvironment.net/raps_o...
Multi-Purpose Space Environment Sites:
NOAA/SWPC: http://www.swpc.noaa.gov
SOLARHAM: http://www.solarham.net/index.htm
Spaceweather: http://spaceweather.com
iSWA: http://iswa.gsfc.nasa.gov/iswa/iSWA.html
Definition of Geomagnetic Storm, Radiation Storm, and Radio Blackout Levels:
http://www.swpc.noaa.gov/NOAAscales/
None of this would be possible without the hard work and dedication of those who have provided all of this data for public use.
Images c/o NASA/ESA/CSA (most notably the superb SDO, SOHO, ACE, STEREO, CCMC, JPL & DSN teams, amazing professionals, hobbyists, institutions, organizations, agencies and amateurs such as those at the USAF/HAARP, NICT, NOAA, USGS, Environment Canada, Natural Resources Canada, Intellicast, Catatania, rice.edu, wisc.edu, sonoma.edu ucalgary.ca, rssi.ru, ohio-state.edu, solen.info, and more. Thanks for making Space Weather part of our every day dialogue
Categories: La revelation, Temoignage, Vérité - Technologie - Egalité
Vérité, Technologie & Égalité.
Yvan Dupont IE
Intuitif Emphatique
Météo journalière de notre système solaire et du cosmos.
Ceci aide le maintien de mon site web dédié aux partage de la vérité, de la technologie et de l'égalité. Merci!
Fraude Électoral Expliqué
/